k e n t
Combining a beautiful mixture of Indigenous backgrounds (Amazigh, Koori and Ashkenazi), Massiva, mostly known as KENT in the community, is a culturally engaged event organizer, dancer and multimedium collage artist. Part of the pioneers of the expansion of African cultures in Victoria, she has participated in and launched many concepts such as KULTURE, THE ISLAND, M.A.D (Melbourne Afro Dance) or TRIBECA. With the soul of an explorer, 18 countries later, KENT has settled in Melbourne, slowly introducing herself in different fields of the creative industries eager to share a wide repertoire of inspiration and bring to life fresh, inclusive and culturally aware concepts.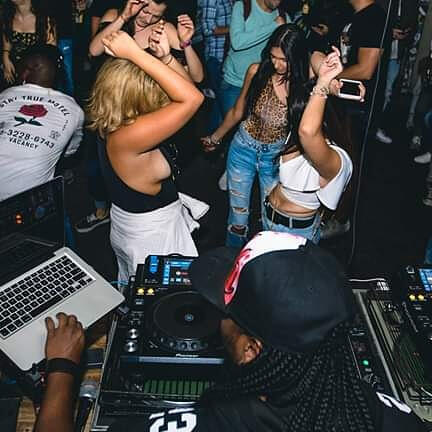 the island
The Island, concept created in 2018, aimed to introduce the great public to diverse African cultures through live music events including singing, djaying and cooking, events previously reserved to African communities, often communitarist and colorist.The Island offered an inter-cultural space highlighting under-represented cultures through its Team Members and collaborators coming from Mauritius, Uganda, Algeria and many more African lands; and musical genres through its curated line-up and playlists, such as Soca or Afro-Grime.Morphing concept, The Island evolved into a Soundcloud Channel offering opportunities for Afro-caribbean and Blak artists to broaden their audience, and for that audience to be exposed to unknown niche musical genres.
Afro-caribbean fundraiser
The Afro-caribbean fundraiser was a one-off event created in response to the crisis situation of the Australian Bushfires in 2020 aiming to show support, from the African Diaspora, to its host country, Australia.For the first time in Australia's history, events organisers, artists and community representatives from different African backgrounds such as 'Pine&Ginger', 'Sounds of Africa', 'Lani Music', 'Quashani Bahd', 'Black Dinasty', 'Lavish', 'Moja', 'The Island' and many more , united to create a charity one of a kind moment, generating profits towards local MOB, Country Fire Authority (CFA) and WIRES Australia.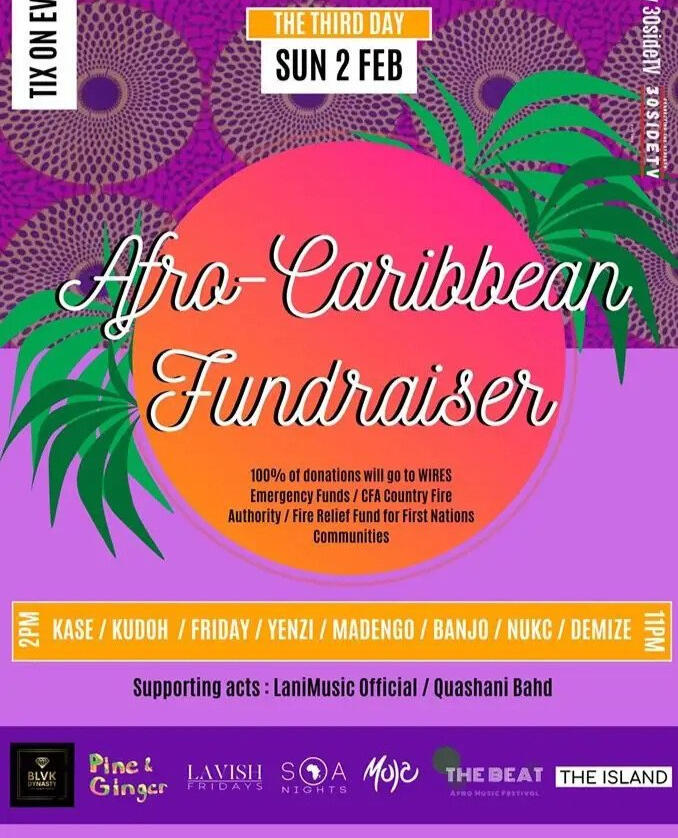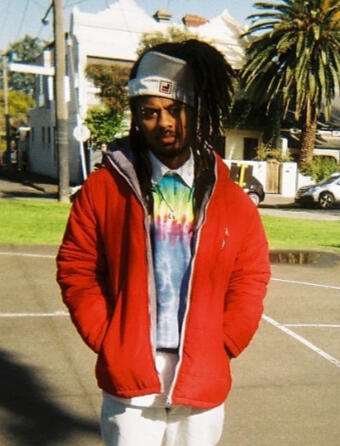 The faces of melbourne's afro-fashion
In collaboration with our-journal, The Faces of Melbourne's Afro-Fashion is a photography project intending to capture the African communities' sense of Fashion in Melbourne.While portraying individuals from multiple African countries and islands, this collaboration led to a series of interviews around the following themes :
- What is it to be African for you ?
- What are your thoughts about new afro-trends ?
- How do you think you can change the local perception of African communities ?These authentic conversations were released on social medias and in our-journal, alongside vintage minimal shots, creating a semi-visual story forming part of Melbourne's African communitie's heritage.
Loading . . .
The following projects are currently loading at different stages going from conceptualization to prototypization. More or less Afro-centered, all concepts aiming towards offering visibility for BIPOC+ minorities through transformative and innovative platforms.